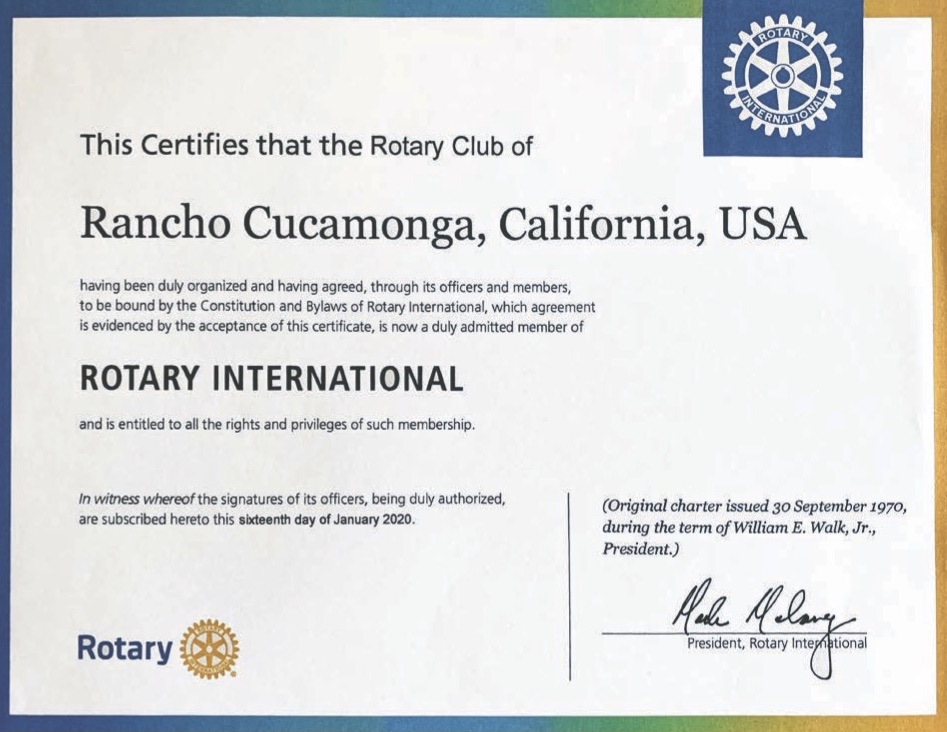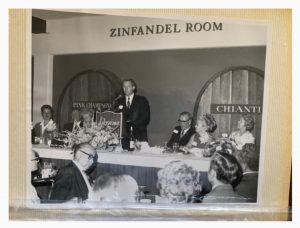 Inaugural Year 1970
The Rotary Club of Rancho Cucamonga, California, USA was chartered as a member of Rotary International on September 30, 1970.
History of Service
Rotary member are committed to "Service above Self" since the beginning of Rotary in 1906.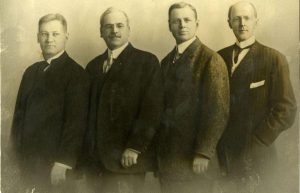 The four original Rotarians: Gustavus Loehr, Silvester Schiele, and Hiram Shorey & Rotary Founder, Paul P. Harris (far right)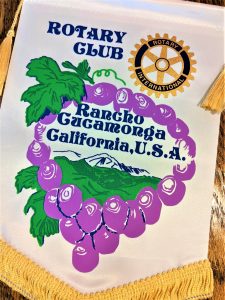 Fiftieth Charter Anniversary 1970 - 2020
We are proud of the contributions that the Rotary Club of Rancho Cucamonga has accomplished in improving the lives of those we have been able to impact with our signature projects over the past 50 years.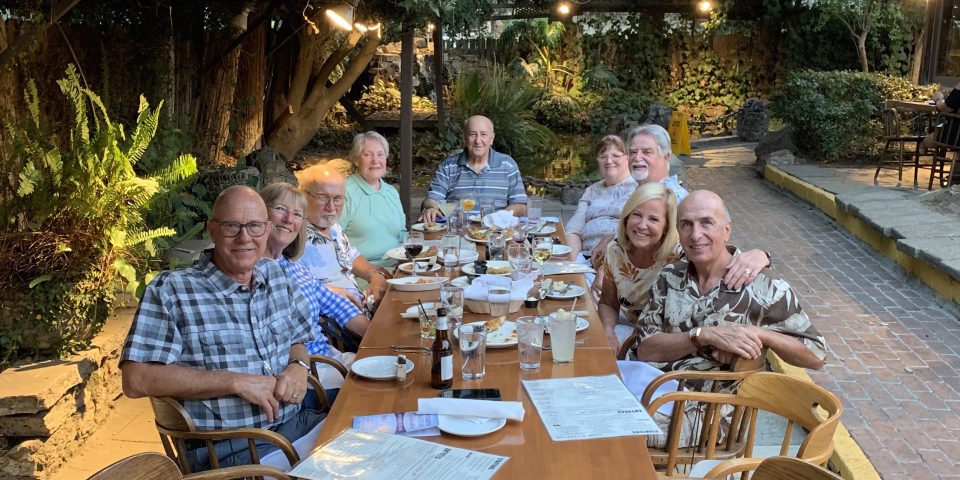 Our Rotary Members
Our Rotary Club Members have over the past fifty years served the communities of Alta Loma, Cucamonga and Etiwanda prior to the City's incorporation in 1977. Providing for the needs of supporting the youth and expanding literacy programs. These local generational Rotarians have dedicated thousands of their personal hours to support the numerous, local Rotary signature projects supporting the needs of our community.
"The service we render others is the rent we pay for our room on Earth."
~Wilfred Grenfell
Interact Clubs
Our club mentors supports our four local communities' high schools through Rotary Interact Clubs with leadership programs that include TLC, RYLA, the Four Way Test speech contest and the Dan Stover Music Contest.
Rotary Club of Rancho Cucamonga Interact Clubs:
Alta Loma High School
Etiwanda High School
Los Osos High School
Rancho Cucamonga High School
Our Rotary Signature Projects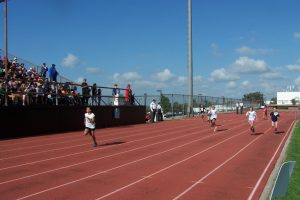 Chuck Keagle Memorial Youth Track Meet
For the past 20 years, the Rotary Club of Rancho Cucamonga has sponsored the Annual Chuck Keagle Memorial Community Track Meet for local middle school 3rd and 4th grades.
Happy Feet
The Rotary Club of Rancho Cucamonga has sponsored an annual event called Happy Feet to provide shoes and socks to approximately 100 children within Happy Feet the community.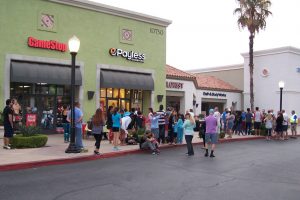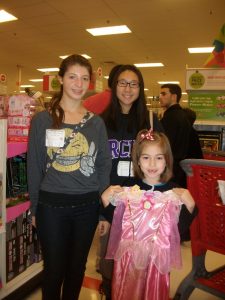 Dr. Joe Trezza Holiday Target Shopping Spree
The Dr. Joe Trezza Annual Holiday Target Shopping Spree provides approximately 100 children with a $100 shopping spree at Christmas annually.
TLC | Teen Leadership Camp
TLC is a leadership training program for outstanding 8th graders. The program is sponsored by the Rotary Clubs of District 5300. Students interact and participate in activities with 180 peers from areas throughout our District which encompasses Clubs from East Los Angeles, High Desert and Southern Nevada.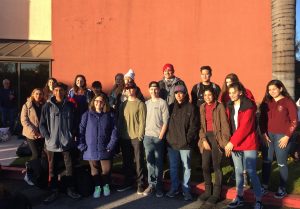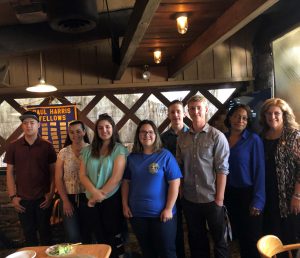 RYLA | Rotary Youth Leadership Awards
Rotary Youth Leadership Awards is an intensive, two-and-a-half-day leadership training program for high school sophomores and juniors in District 5300 chosen for their leadership potential. RYLA is meant to develop understanding of Rotary among youth participants and reinforce and provide recognition for their efforts, accomplishments, skills and potential as leaders.
COVID - 19 | Food Drive for the Needy
Rotary Members supplied and distributed food stuffs to various families in the community who have fallen on hard times due to the pandemic.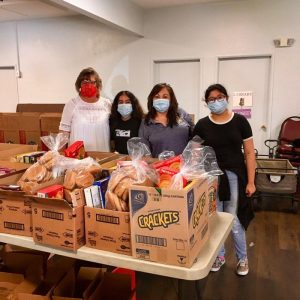 More Community Projects
Bike Safety Training
Boy Scouts
Boys And Girls Club
Chaffey College Vets Club
Children's Christmas Gifts
Christmas Baskets
Disaster Survival Bins
Eileen's Closet
Food Bank
George Hensel Essay Competition
Girls Tea
Helmets For Kids
Music Competition
Play Equipment For The House Of Ruth
Thanksgiving Baskets for Families
Teachers Mini Grants
Global Projects
Eradication of Polio | WORLDWIDE
Built A School | AFRICA
Local Craft Economy | AFRICA
School Painting | MEXICO
Cataract Equipment | INDIA
Water Pumps & Home Building MEXICO
Cleft Pallet Surgery | INDIA
Brick Machine | AFRICA
Wheel Chairs | MEXICO
School Security Fence | AFRICA
School Supplies | MEXICO
Container Of Books | AFRICA
Latrines & Water Pumps | INDIA
Ambulance Equipment ARGENTINA
Youth Exchange Programs With Several Countries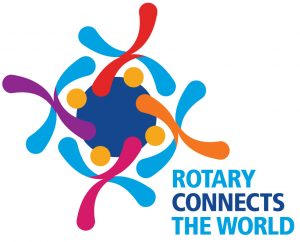 The Rotarians are not alone in accomplishing these signature projects. We are fortunate to be supported by numerous community sponsors who Financially donate to make these efforts possible. It takes a community to build a community. Rotarians and all its sponsors are playing key roles in providing leadership and service in developing a community of promise and hope for all.
Become a Sponsor